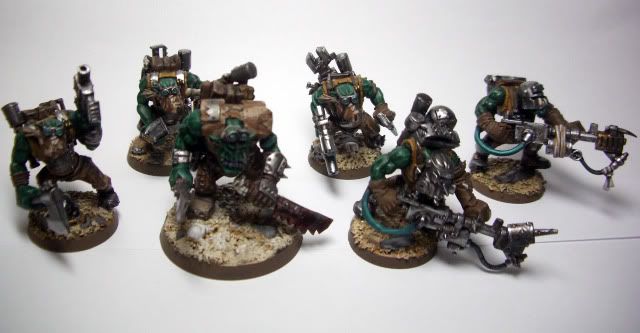 The unit is finally completed, 6 members with their vicious leader of the stand-in snkirot.
So, I have been dragged away from painting by the ever engrossing world of computer games. This time it was Civilisation V. I have found a new found enjoyment of this game, after finding a way of making it work.
The squad I am happy with in general the camo is a little slapdash perhaps, something I have never really done before. It turned out OK in the end though. I went with camo on the bottoms and masks only. I found with snikrot it doesn't show up very well on the shirts themselves so instead went for a rather brown to to help blend into the desert theme. I included a little bit of turquoise on the models to help tie them into my overall army colour, in this case the odd arm band and the tubing on the skorchas. I justify it by looking at it like this - they know what stealth is, but are still just orks.
They are deliberately blended with the base to help the theme of desert stealth. I am yet to sort out a little extra for the base, some desert plants or grass, but shall at some point in the future.
I have also managed to hopefully add some character to the models in how I have modelled them, something I am hoping to continue on with in the future.
The two skorchas are not really memorable but they both have covered heads, something I am liking, none of these show their faces. Perhaps a theme to continue in the future.
This guy I tried to make it look like his skorcha was well used, hence the burned look at the end of it. It is quite a bland looking model really, lots of metallics on him. Though, on this fella I have done his backpack wooden looking - it can't be seen - and I'm sure orks are not amazingly sure how to store fluid.
This ork is a wanna be mek, hence the items he 'liberated' from a careless mek who had one too many fungus ale.
These last two don't actually have that much character... so I lied above. ;) They just like a good ol' scrap and have modified pistols for 'sneaky' work.
Just like above, a simple fellow.
And then, the leader. My count as snikrot. I haven't chosen a name for him yet, but overall I am happy with how he turned out. The nob body made him look bigger than the rest of the squad, and the bigger base. The face I think turned out quite well, the purple lip fleshes out a little bit of colour on the face.
Here I thought he needed something a little different, so he's all tooled up and has a couple of trophies.
And a better look at his camo.