The unit filler for my latest warrior unit has been finished, based and added to the unit. And out of the few I have made, it is my favourite...
And it is finished! I decided to make the base a little more interesting and went for different coloured flagstones, increasing in brightness. A few tufts of grass and we're good. I have also included a picture of the currently complete unit. I still have another ten models to add to the unit to make it a full 30 models.
This time the pictures have been taken by my camera, not my phone and actually edited. So they should be a little better looking.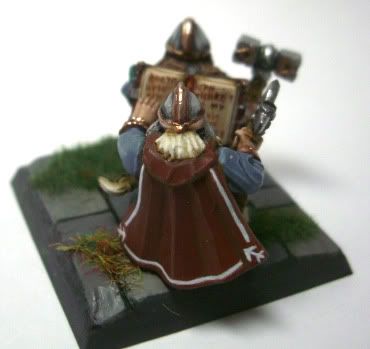 The cloak needed a little something, and although the rune on the edges does mean 'Grudge' it is in fact a weapon rune. It works, and that is the main thing.
The positioning is to show the dwarf reading the grudges off off the page. They turned out pretty good, if a little messy and it was fun to put
some friend
s
on the pages.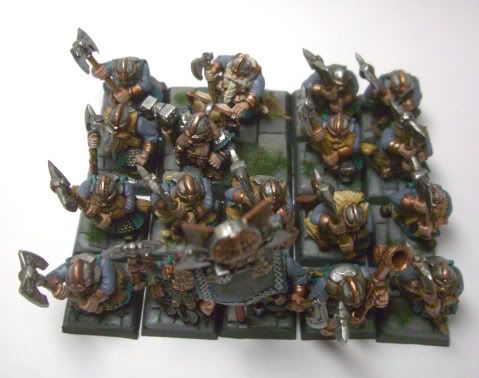 You can see the top down view of the unit and how it fits in well. The base also has a little more static grass on it, I decided with was just too plain, hence the different stone colours (then washed with black) and the grass.
And finally a frontal view. I am happy to have them almost done and hopefully by next weekend they will be fully complete and I'll move onto the quarrellers.
If I get time before the meet I would like to either paint up a new cannon or re do the bases for my
grudge thrower
and
cannon
to be on a smaller base; either square or a round base.
This is because I think having the large rectangle base is unwieldy. It looks cool and works really well as a mini diorama, but in gaming terms, not so much. I will be much easier to drop it down to a smaller base with crew on separate ones.