So, for the last week I have been working on this librarian
I previously mentioned.....
I decided I wanted to make him a Blood Angels librarian, hence the red shoulder pad. I tried to keep the colours on him down to a minimum but strong enough that they draw the eye to themselves. In general I have finished him, minus the base of course (that is to come this week). All I have left to do is some freehand on the shoulder pads, book, seals and perhaps something on the edge of his robes. My blending is not up to scratch on parts of the model, the sword is especially a little patchy, I am how ever happy with the robes.
I chose purple for the force sword to try and tie the colours together, the blue, purple and red work very well together without them being too much.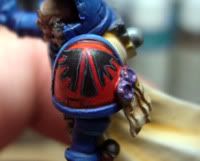 So, a little while later and I have managed to get some freehand done. The Blood Angels badge and a book. I am pretty damn happy with them, they are not perfect but are among my best freehand to date. I am not sure if the book needs more, I have seen some pictures of old librarian banners/badges that have a sort of halo above the book and lightning bolts. I have decided to avoid doing anything like another chapter badge over the book.
I am also unsure if the robe needs a little trim - like a border - or if so perhaps some blood drops in the corners. But I don't know if that would be a good idea or not.