THEY. ARE. FINALLY. DONE.
Yes. As you might have guessed over this last month I have been painting up a blood bowl team to be sold off. It has been one hell of a slog. Too much of one really. But they are done and I'm happy to sell them off, and I think I never want to touch yellow paint over again. You have all seen the players before, but I'm going to put up pictures anyway, the thing to show this time are the markers.
There are four in total; two re-roll, one turn and one score. I was stuck for ideas on most of these, except the turn. I really liked the idea of a team manager on the sidelines giving off instructions, so here he is.
I decided to try and give him a look like he was wearing a suit, or the fantasy kind of one. So I went for grey and added a badge on the jack for the team. In his hand he holds a team book, with a play in action. He's stepping over the line giving them orders. (And I noticed the white, it's superglue, I'll fix it.)
The second is quite plain looking; a simple banner. I struggled to think what works for a score marker, and what better than a banner? I have left it blank on purpose, so if someone buys it they can add their own slogan or team name.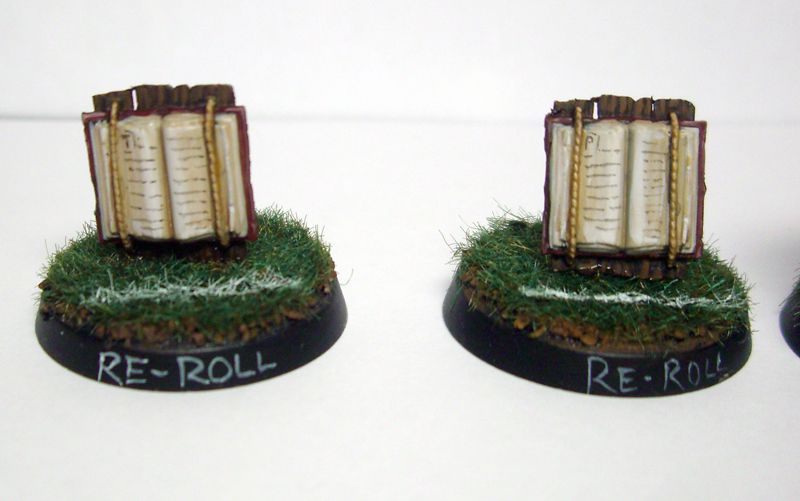 The last two are re-roll markers. Again I was at a loss, so a generic book strapped to some wood found a way. I think I am least happy with the idea of these two, but I think I painted them quite well and am happy overall with their look.
And now team pictures. Each player has his number on the base, so it is easier to spot during play.
These will be on ebay as soon as I have sorted out my paypal account. Unless someone wants to make a nice generous offer? ;) I'll also be putting some other stuff up, old miniatures and minis I don't want.
Now, if you'll excuse me I need to start to plan my secret santa. And it WON'T be including any yellow!!