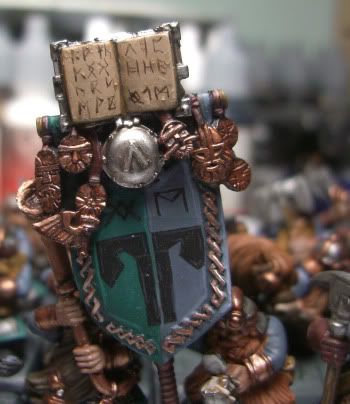 Another complete unit for the marching Dwarfs. And my third warrior one to boot. Oh, and there are some current army pictures in there also...
I finally got some pictures taken of the finished unit and the army as of today.
First up, the unit filler. I think it turned out quite well, the greenstuff isn't that terrible with paint on it.
And I won't do a rank by rank picture because they have been seen before, but I am quite happy with the front rank and the banner. I went a different route with the banner this time. On the previous two units you'll see that I went for a more realistic looking axe. This time I decided to do a stylised axe. The axe icon will appear on ever warrior unit, just done in different fashions.
And because it has been demanded by several people, a couple of army shots.
So, there. I have changed my mind about the next choice for the dwarfs, it will not be the BSB. Instead, I have decided to do the 'stone thrower'. I am thinking of making it into a mortar rather than a stone thrower as I REALLY dislike the current GW model. It makes no sense and doesn't look all that good.
However, for a bit of a break from my dwarfs I am going to paint up a mini and if I do a decent enough job on it I will put it up for sale on ebay.